Daniel Day, under the alias of "Dapper Dan," serves as one of the pioneers of bringing high fashion into the streets of Harlem during the 1980s. As a direct response to luxury retailers refusing to sell to the Harlem-based tailor, Dapper Dan began designing clothes and garments for African Americans using luxury labels such as Louis Vuitton, Gucci, and Fendi. Although his bold design philosophy resulted in lawsuits and the eventual closure of his storefront, Dapper Dan served as a zeitgeist for contemporary luxury streetwear and an accurate example for the compromise between the demands of the social world and the desires of the individual.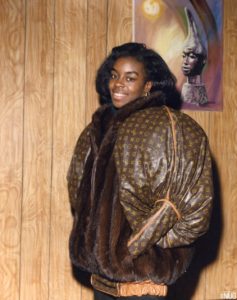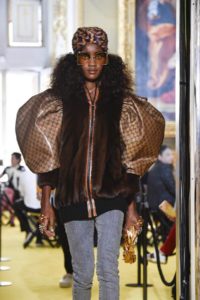 Left: Olympian Dianne Dixon wears a Jacket designed by Dapper Dan (1989).
Right: Gucci's Cruise Fashion Show (2018).
Similar to Joanne Entwistle analysis of the dandy, Daniel Day's designs were statements of wealth and leisure, eager to steer away from the established dress code norms of the economically deprived area of Harlem. Although others may interpret Day's designs as counterfeit, he was able to transcend his materials through the use of these luxury symbols and provide a distinct style to many performers, public figures, and elite: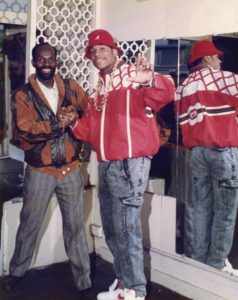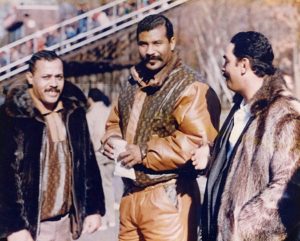 Daniel Day's clothes provided a statement. His clothes allowed the individual to communicate a proclamation of their status, personal style, and most importantly provide a black identity to many luxury fashion labels. Rather than being confined to the social world, Daniel Day was able to challenge and disrupt current norms by using clothing to re-articulate class allegiances. Whether it is a Gucci windbreaker or a Louis Vuitton leather jacket, these articles of clothing do not represent the act of conformity to social conventions. While fashion may have tendencies to represent specific groups of people, style can be democratized and made accessible.
Tension between our personal desires and social status and morality do exist and it is our choice of clothing that decides whether or not we choose to conform. By picking specific garments, materials, brands, and styles, our clothes can challenge the various groups, classes, and cultural communities that we belong to. The fabric that our bodies inhabit is a second skin that we can either dress up or down.