Rihanna has been known as a trendsetter often seen as more stylish and versatile than many of her music peers. The singer has an extensive fashion CV including her position as the Creative Director of Puma, her commercially successful Puma line, Fenty x Puma, her shoe collaboration with Mano lo Blahnik, and a sunglass collaboration with Dior to name a few. She constantly strives to show that she's more than a singer.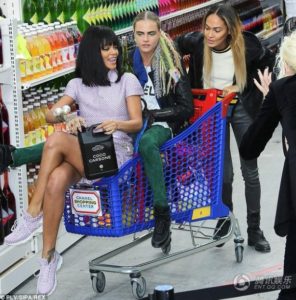 The first picture is after Chanel's supermarket set fashion show showcasing their Fall 2014 collection. She's on set with supermodels Joan Smalls and Cara Delevingne. The two models look similar with more relaxed messy hair, white t-shirt, and jeans. In contrast, the singer is wearing head to toe couture Chanel as if she too just walked in the show. In the corner of the picture, a photographer is taking their photo with only Rihanna looking towards the camera and posing for it. Even when the models aren't maintaining a fashionable image, the singer must continue to do so, to align herself with that world.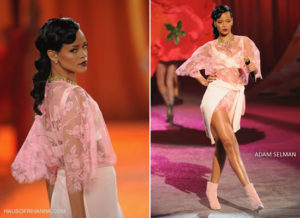 The second picture is of Rihanna during the 2012 Victoria's Secret Fashion Show, where she performed her song, "Fresh Off the Runway." Also wearing a lingerie piece, the singer walked down the runway and posed as if she were a model in the show, putting her on the same level as the models who just walked before her.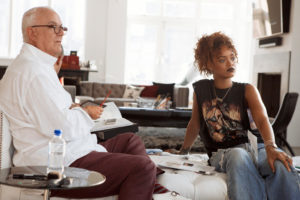 The final picture is of her and Manolo Blahnik designing their collaborative line. Although the two are both creating the same line, the designer is dressed more along the lines of business casual, while the singer resembles more closely to an 80s rockstar. It's clear that though she's in the fashion world, her boldness concludes that she is still the pop star in the room.
When she aligns herself with these individuals in fashion, she is more than a celebrity endorsement. She is on the level of the supermodel when she's at high-profiled fashion events donned in the label as if it were a uniform. Not only, she has the creative influence to inspire designs, and the credibility to create her own. She is distinguished as an outsider of the fashion world by her primary occupation, yet she is often seen as someone who has just as much credibility as someone whose career is in fashion. She is the model, inspiration, and designer all while maintaining her pop star status.
-Liya Douglas